When the summer sun comes out, there's nothing better than some indulgent gelato to cool you down. Nothing that is, except gelato that's been levelled up with an extra buzz from the good stuff. 
So treat your gelato right, with our guaranteed-to-please Affogato recipe. We like to make this recipe using the Stovetop for true Italian vibes, but if you don't have one, no worries! You can also whip up the espresso for the Affogato using an espresso machine.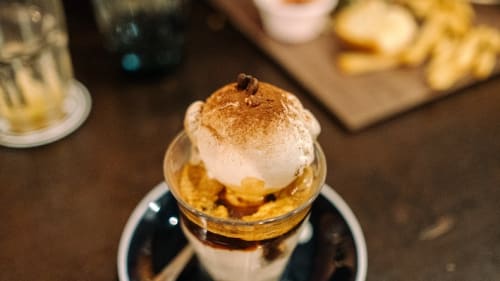 Equipment:
Small heat-proof drinking glass
Stovetop coffee maker or espresso machine
Grater 
Ingredients:
Medium-fine ground Pact Coffee (if using Stovetop) or fine-ground Pact Coffee (if using espresso machine)
2 scoops of vanilla gelato (or a good quality vanilla ice cream)
1 splash Amaretto (or liqueur of your choice)
Dark chocolate for grating
Method:
Brew one shot of espresso using either your Stovetop coffee maker or espresso machine. 
Place two scoops of gelato / ice cream into the glass.
Pour the espresso shot and splash of liqueur over the gelato.
Grate dark chocolate over your Affogato - and enjoy!
Which Pact Coffee to choose?
A coffee with a chocolatey flavour profile is the way to go, so House Espresso with hints of creamy milk chocolate will really hit the spot.
Looking for more?
We hope you enjoy this delicious Affogato recipe! If you're looking for more chilled caffeine kicks, why not check out our Iced Coffee blog. 
Need help achieving brewing perfection? Take a look at our Brew Guides.